OPTION A: RELAX!
WE HANDLE THE DETAILS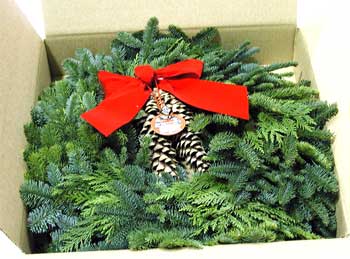 Give a classic gift this year. A fresh fragrant wreath is something everyone can use and enjoy. Our wreaths are luxuriently full and mountain fresh
We make it easy for you. We'll pack and ship a beautiful fresh wreath (or garland, or box of greens) to everyone on your list. And we'll hang a personalized ornament tag with your name and message on each wreath!
It's simple, it's economical, and your thoughtfulness will be remembered for a long time.
| | |
| --- | --- |
| Hanging on each wreath is a paper ornament and jingle bell personalized with your name and message: | |
OPTION B:
WE DELIVER TO YOUR OFFICE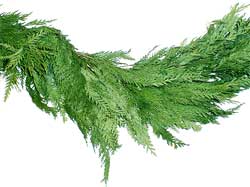 1) You want fresh, vibrant wreaths and garland to decorate your office. The scent is wonderful! 2) You'd rather give the wreaths to staff and visitors right there in your office. 3) A group in your office wants to place a co-op order so everyone can share in the savings and have their greenery conveniently delivered at work.
No problem – we deliver. On Mondays, Tuesdays and Thursdays we deliver in Whatcom County.
Because they don't have to fit in a UPS shipping box, you can have larger wreaths or longer garlands delivered if you want. If you don't need the convenience of individual boxes, save some money and order them without boxes.
• Decorate your Office
• Use as office gifts for Valued Associates
• Group co-op purchase for convenience and savings